A Rant On Avengers Endgame For All MCU Fans
The end of an era.
As I begin writing this, I cannot help but play the extended theme on Soundcloud of this brilliant, epic, mind-blowing, fantastic, awe inspiring, goosebump giving, spine chilling, nail biting experience we all refer to as Avengers: Endgame.
Here's the link, just in case.
The first thing you see is opening pre-credit scene of Clint Barton (Jeremy Renner). Being a father myself, I couldn't help but feel overly attached to that scene. It was also a great way to start the movie. The stories of all the other characters have been told, except for the story of Hawkeye. Interestingly, was that an easter egg? Clint calling his daughter Hawkeye?
Oh , in case you haven't seen the movie yet, please stop now. There are going to be a lot of spoilers ahead.
So yeah, we see the brief origin story of Ronin and later see a cameo by Ujio from The Last Samurai. And that's my favourite part about this movie. It has many such never before non-superhero movie moments. Some are cliched, some are unexpected, some seem to be too much Ragnarok... but in the end, it is a perfect tribute to the last 10 years.
Like the opening credits. Instead of the standard Marvel opening sequence the song is Dear Mr. Fantasy. It is a very surprising start to the movie and yet perfect. It sets the mood. Which is mostly sombre and melancholic.
Image source: Flipboard
Because after all, Endgame is all about melancholia. Sure people survived, half of them, but the ones that did not, well, they are just referred to as the Vanished. And it did get to me. Think of what would happen if half the people around you just vanished.
You obviously start the movie then with the scene from the first trailer of Endgame. You see a good bit of Tony and Nebula bonding and living it out till the day their oxygen and food and water are all gone. I kept waiting for the line – the idea of Rescue... Why? Because, remember Iron Man 3? Remember Extremis? Now look up Rescue, the superhero. What you're shown is a different side of Nebula. Fan theories went on about how Nebula will kill Thanos. And I think a lot of us expected that. Obviously, some smart people were also wondering how the MCU will manage the salaries for Mr. Downey. We all now know what happened. Unless you still don't. In which case, stop reading this and figure out those tickets.
The next scene is the actual rescue. I was disappointed, a little by the rescuer. But then again, MCU has done well in not letting any of the theories make any real dent whatsoever to the story they're about to tell. The team regroups and there is a whole argument that Iron Man has with the Cap. Loved the real shit that happened there. I mean he had all the rights to tell Cap to fuck off! And he did! He's supposed to be a hero, and he decided to choose a single person over the greater good and all.
It's also get direction, with Tony Stark looking all wasted and old and weathered. He doesn't lose his wry humour and Robert Downey plays that amazingly. Blowing raspberries and all, lol. Ultimately, he gets sedated and suddenly the misfit, Crap-ton Marvel is like, see you I'm gonna go kill Thanos. And the rest of them are like wait, we want in on it too. Thor is being all passive aggressive at this moment. And summons the Storm Breaker and declares his like for Crap-ton. Shit goes down and they find Thanos. And finally, Thor goes for the head.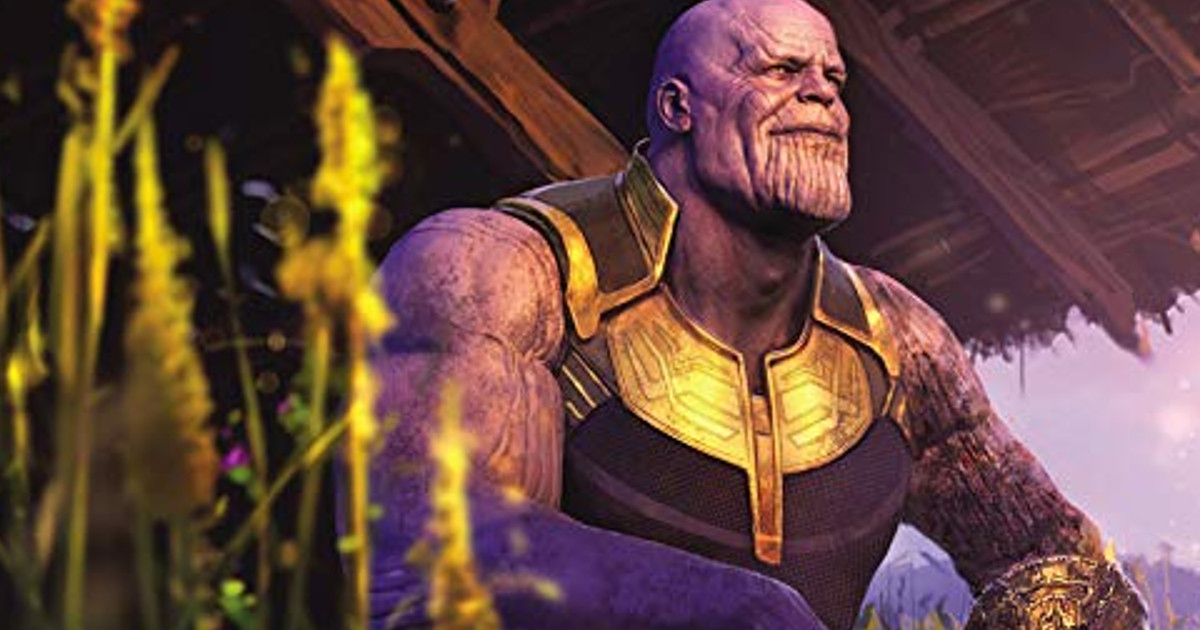 Image source: cosmicbook
And you're like, what? That guy Thanos who was the ultimate annihilator and was just roaming his fields in like a t shirt and tracks, is dead? So… what now?
Screen fast forwards to 5 Years Later, and you wonder then what the hell was C C? I still don't know. Please tell me.
Suddenly, everyone seems to be losing their shit. Black Widow is sporting a look borrowed from X-Men, Cap is helping Joe Russo get on with life. And boom, we have the introduction of Ken Jeong! Ooh, another story brewing in MCU I guess. Unless you accepted this as a cameo. Which no one does in the MCU. I mean not even Morgan's dialogue before going to bed is random. We'll come to that. So. Scott Lang is out of the realm and is now coming to speed with whatever happened. My second moment of crying comes close too, but doesn't happen yet. And the question that everyone has on screen in the father daughter reunion is asked by Lang too - you're so big. Like guys, do the math. It's been 5 years. 12+5 is 17. Just like 12 + 8 is 20, making Arya an adult.
Lang also has a self that has now been messed with by the whole time dispersion. But he realises this is a chance to make some shit right. Off we are now on a journey through time. People are probably going to say there were so many other ways and all, like why didn't Strange use the time stone in the end to restore the apple called Iron Man, but look, it's a story and it's trying to keep it real-ish. People make all kinds of choices in real life too and there are always those who will offer an alternative. Like how all the couch batsmen know the right shot to hit, but can only talk about it in their living rooms or at a bar.
Coming back to this, the humor by Black Widow was good too. And we get introduced to the youngest stark now, Morgan. And the now famous line - I love you 3000. Which happens to be the sum total of all the MCU movie run times up until now. Not including Far Away From Home. Possibly cause, it's after this movie and may not feature The Stark. Will it feature A Stark though?
From here onwards the journey is about Tony saying no, Thor becoming a washed-out rockstar, Banner being out of his depth, Lang peeing his pants and eventually, Tony coming around. By the way, thank you Chris Hemsworth! For finally not setting ridiculous body standards for men! And putting forth the idea that men can be Thor and still be stupid and beer bellied! The twisted beard knot, not so sure.
We also see a cameo by Hiroyuki Sanada, or Ujio from The Last Samurai. Another storyline? Ronin and Hawkeye go holiday in Japan?
The team's assembled, time travel established and it's now on to the avenging.
But wait a minute, what was that shit about time travel? That when you travel back in time from the present, it actually becomes your future, making your present the past and thus there is no altering the present by changing the past, because you've now made it your future? Hahaha. Do you get it? Wait, I'll try with a picture. Get it now? Lemme know if you need help. And yes, back to the future is shite.
Up until now, movie goers may have felt like this is a dram movie and not a Superhero movie. Especially, with Romanoff and Barton scene. By the way, who is Ivan? But then the movie picks up. And you've got the ultimate battle on your hands! Loved that part. Cap welding the Mjolnir. Scarlet Witch ripping Thanos apart. Crap-ton needing protection by all the MCU ladies. Finally, we see Rescue. All of it leading up to - I am Iron Man. Snap!
And that brings us to the epilogue. A long one. Doing all kinds of throwbacks! From Tony Stark's heart, to Morgan wanting cheeseburgers, to the garage kid, Harley from Iron Man 3. Yes! He was there! And he's grown! Obviously! I cried again over Morgan and her cuteness. It's a father thing.
The movie has done justice to the entire saga of 20 movies. And the 10 years of buildup. It's not just a superhero action movie. It's emotional. It has drama. It has melancholy. It has tragedy. It has all you can eat buffet of emotions if you're sensitive. And it sets the tone for everything that the future holds. Which is hopefully without too much of Crap-ton. I watched it twice! And if you haven't even once yet, then please, don't call yourself a fan. Let me know if you need help with the time travel theory or tickets...
By the way, there is an end credit you didn't know about.
Published on :

08-May-2019
---