These Four Players Are Changing The Indian Market With Their Sustainable Outlook
More power to them.
In light of global warming and climate change, it is crucial that we keep the planet in mind at all times. Leaders from around the world are meeting at summits to discuss the adverse effects of our carbon footprint. Non-renewable energies are being used at a fast rate along with other important resources, the water level is increasing and soon enough, pollution may be out of our control. So it is, in a way, our duty to protect the environment. While on the global scale, awareness is picking up steam, let's talk about the important developments taking place closer to home. I was pleasantly surprised to find that there are many brands and companies who are taking an environmentally conscious route in their daily functioning. A collective of well informed entities can truly bring about a much needed change and that is what these four are doing
Ikea In India
Many of us urban dwellers are familiar with Swedish giant, Ikea. It is a 75 year old recognised brand around the world which has established itself as a one stop destination when it comes to lifestyle and household related needs. The company realised its potential in a developing country such as ours and made its natural progression into the Indian market; opening their 37,161-square metre store in the city of Hyderabad. Everything inside the store has been created keeping in mind the sensibilities of an average Indian household.
When a brand has an audience as large as ours, it's only common sense to start home delivery services. However, there's an added twist to this. Ikea has opted for delivery vehicles that are battery operated; these are significantly less harmful than the other vehicles ruling the roads . These electric three-wheeled minions are being operated by their logistic partner GATI-KWE and are substantially less polluting than their counterparts. In addition to their 'going-green' movement, they have also acknowledged the rising concern in global warming and have reduced their carbon footprint, delighting us all by installing 4,000 solar panels onto the roof to power their humongous store. Ikea surely has their heart in the right place and we hope they bring this conscious thinking to all their stores. They're planning to open 20 stores across India by 2025. We hope other companies take a page out of their book.
Image: Telangana Today
Know more about Ikea India here.
Solar Operated Ferries
Ferries and other water vehicles require a lot of energy to navigate through the sea. Currently, the majority of ferries and boats used, feed on fossil fuel which should soon be replaced with an alternative. Thankfully a start up called NavAlt Solar & Electric boats, situated in Kochi, Kerala has started building affordable solar ferries. While solar ferries are widely available in the global market, they however have not been successful in breaking into the Indian market, largely due to the pricing. Founded by Sandith Thandasherry, we applaud this naval architect's efforts in bridging the gap and bringing a much needed change to the Indian shores. I am especially glad that the Government of Kerala has taken notice of this firm and has placed an order for solar boats!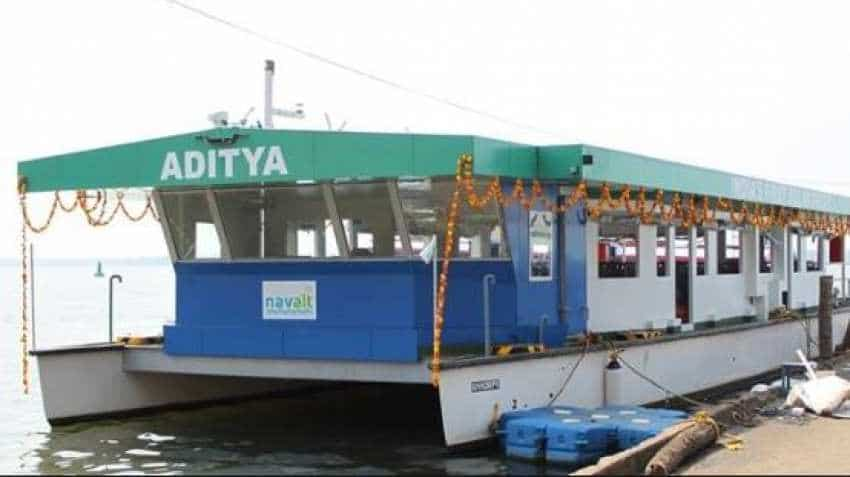 Image source: Zeebiz
Read more about navalt here.
Aadhan
Sanskrit for 'box', Aadhan is a start-up in Delhi that has been doing a wonderful job at recycling. Started by Nikhil Dugal and Akshat Goel, this non-profit initiative upcycles old shipping containers into buildings, homes and schools! The shipping containers that they use have returned from their long service at sea. The team at this NGO refurbishes them with sustainable materials such as recycled tetra packs. Aadhan has also been able to help other NGOs by turning many of these containers into classrooms, proving to be cost effective. Another interesting aspect to their work is that these 'buildings' can be shipped to any location in the country! Talk about structures being hit by the wanderlust bug.
Image source: Aadhan
Know more about Aadhan here.
Kempegowda International Airport, Bengaluru
Bengaluru's International Airport which witnesses a large footfall recently installed a 3.35MW rooftop solar power plant to meet its growing energy needs. Sunshot Technologies was given the contract of installing the solar panels on eight rooftops within the airport's sprawling premises. The estimated electricity generated annually through the rooftop solar plant is 4.7 million units and that is a huge number. The good thing about this is that it is expected to reduce carbon dioxide emissions by 3,800 tonnes each year! The airport plans to be powered 100% by renewable energy by 2020, reducing the carbon footprint drastically.
Image source: Airport technology
Published on :

21-May-2019
---