Dieting But Can't Give Up Meat? These Non Veg Keto Recipes Are For You
Quick and easy non vegetarian keto recipes.
Let's face it, significant weight loss can only happen when you're exercising AND eating right. But in today's world, it is extremely tough to avoid sugar and carbs. Anywhere, we go or look, we will always find some form of it lurking in the corner, silently luring us. This is especially true when you're on a diet, suddenly the only thing you want in the world is a bucket of chicken wings. Fre not, the keto diet lets you enjoy all the flavours and even the meat you love. To help you shed those unwanted pounds, we are sharing with you some non-vegan keto diet recipes that you can make in 15 minutes.
Keto Pizza
Would you guys believe me if I say that it is very easy to make the keto version of pizza? And no, I am not talking about the over-rated cauliflower pizza base.
Pizza Base Ingredients:
1 tsp psyllium husk, 2 tsp almond powder, mozzarella cheese, Italian seasoning, a pinch of salt, 2 whole eggs.
Pizza Toppings Ingredients:
You can choose your own toppings. However, here are the ingredients that we like: Capsicum, pepperoni or spicy flavoured salami, pizza sauce, more mozzarella cheese, jalapeno.
Method:
Blend all the dry ingredients together.

Cook the batter on a skillet until the edges brown.

Flip the pizza base, switch off the gas and allow the pizza base to cook over the skillet's heat.

Start decorating your pizza base facing up with your chosen toppings.

Put the skillet in the oven for 2 minutes until the cheese is melted and all the other ingredients come together.

Take it out of the oven and serve. Check out this video for further guidance.
Keto Pasta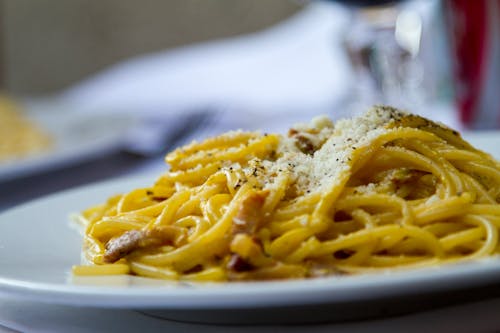 Image: Pexels
We will be honest with you, when we got to know about this recipe and tried it out, we don't feel like going back to the regular pasta recipes that we know, and I am sure you will feel the same way. Plus, this is a recipe that is so easy that I feel a little foolish for not having known it before.
Pasta Base:
1 cup mozzarella cheese; 1 egg yolk
Pasta Toppings:
Pasta sauce, click here to know how to create an amazing home-made pasta sauce; bacon; fresh basil leaves; some mozzarella cheese to decorate.
Method:
Melt the mozzarella cheese.

Add an egg yolk to the melted cheese

Let it cool down and roll it flat on a surface as thinly as possible.

Refrigerate it for 5 minutes.

Then cut the sheet of mozzarella and egg yolk into thin strips, and boil. Your pasta base is ready.

Fry the bacon until crisp.

Add the crispy bacon and pasta sauce to the pasta base.

Garnish your pasta with come shreds of mozzarella cheese and fresh basil leaves. Check out this video.
Keto Noodles
Do you worry that your love for Chinese food is going to inhibit you from going into ketosis? Don't worry, we have a solution ready for you where you will get to enjoy the perks of Keto diet without compromising on your cheap Chinese food cravings.
Noodle base:
The only ingredient you would need to make keto base noodle is Zucchini.
Noodle Toppings:
Diced onions, diced carrots, garlic paste, a few slices of ginger, black pepper, salt, chilli garlic sauce, one half-boiled egg, and shredded boiled chicken.
Method:
Use a spiralizer to strip zucchini into noodles shape. If you don't have a spiralizer and don't want to buy one, cut the zucchini into thin strips using a peeler.

Blanch the diced onion and carrot in a pot.

Add the garlic paste, a few slices of ginger, black pepper, salt and chilli garlic sauce to the pot.

Add the zucchini noodles and one cup of water, and cook for 5 minutes.

Take the pot off the heat, and add the shredded boiled chicken.

Ultimately, serve it in a bowl and garnish it with half-boiled egg diced in half.
You can refer to this video for any further guidance.
Keto Sandwich
Can't go without having bread? Don't worry, we understand.
Bread Base:
3 tbsp Almond Flour, half tsp of baking powder, one fourth cup parmesan cheese, garlic powder, salt, black pepper, 1 tbsp butter, and 1 egg.
Sandwich Ingredients:
Two slices of Ham, thinly sliced tomato, thinly sliced onions, and lettuce leaves.
Method:
Add all the bread base ingredients in a microwavable bowl.

Microwave it for 90 seconds. Your bread is ready.

Slice the bread in two.

Add all the sandwich ingredients in between the who slices of bread to make yourself a sandwich.
Keto Chips
Having small but frequent meals throughout the day is a must when you are trying to lose fat and maintain a healthy diet thus making snacking a good habit. However, it is very important to be mindful about the snacks a person chooses. The Keto diet has a quick, delicious and a healthy solution for your snack time- chips. These Parmesan chips are so healthy and so delicious that you will keep making them even after you have stopped dieting.
Ingredients:
Parmesan and Italian seasoning.
Method:
Place a parchment paper on a baking sheet.

Take parmesan shreds and make a disk-like shape on the parchment paper.

Add Italian seasoning on all the disks.

Bake it for 5 to 7 minutes at 350 degrees Fahrenheit.
Keto Mac n Cheese
There is no other food on the planet that is as comforting as mac and cheese, and keto recipes are purely made for an extremely indulgent version of it. To add further cheese to the mac, it is super easy and consumes less time to create.
Ingredients:
Your choice of sausages, 4 cups of water, 1 cauliflower, salt. cream cheese, heavy cream, paprika, black pepper, chives, and mozzarella cheese.
Method:
Toast the sausages, and set it aside.

Cut the cauliflower into small pieces.

Boil the water and add salt.

Add the diced cauliflower to the boiling water and cook for four minutes.

Drain the cauliflower.

Take another pot, and add cream cheese, heavy cream, salt, paprika and black pepper. Cook it until combined and slightly thick.

Add the boiled cauliflower in the pot and combine it with the sauce.

Finally, serve it in a bowl, and garnish it with grated mozzarella and chives.

You can refer to this video for any further guidance.
Keto Fried Rice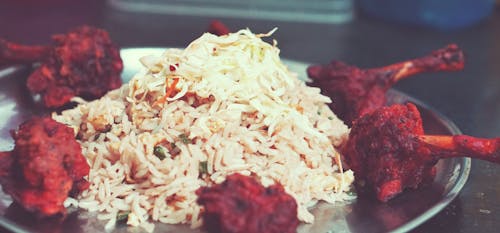 Who said one can't enjoy having fried rice while in keto diet? We have searched for you an amazing substitute for rice that I am sure will blow your mind. And, the first shocking aspect is that it is quicker to make keto rice than a regular one. For the second shocking aspect, it the following recipe.
Rice Base:
Finely grated 1 cauliflower.
Veggies:
Red bell peppers, yellow bell peppers, carrots, peas and broccoli.
Protein:
1 egg, and a few pieces of chicken.
Method:
Cook the chicken and set it aside.

Then, make scrambled egg on a pan.

Add all the veggies and sautee them with the scrambled egg.

Add salt and pepper.

Now, add the finely grated cauliflower. Cook it for a few minutes.

Add the precooked chicken and mix.

For more fried rice recipe ideas, click here.
Now, you have a bunch of quick Keto recipes that will help you stay on track with your diet and achieve your health goals. Do remember, to avoid any high-carb content foods, and have patience. Generally, the keto diet starts to show the results after three weeks of being under a stick diet, so keep at it if you don't see results in a week. For further lifestyle hacks and ideas, keep following Daily Poutine.
Happy Dieting!
Published on :

17-Jun-2019
---